European sales issues
Sorry, due to Brexit complications with VAT I cannot currently supply to European countries. If you still want an item I can make it available on eBay and sell through their Global Shipping option. They take custom charges up front so you know exactly how much to pay. Just let me know what you want here and I will list on eBay: CONTACT US
Ortlieb Wasserdicht Camera case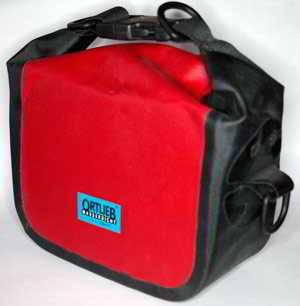 Description:
Second hand Ortlieb Wasserdicht Camera case for sale
Used Ortlieb Wasserdicht totally waterproof case. Suit a larger compact or binoculars, will even fit an old Leica rangefinder. The cas has a wrapping top that traps water from getting in. The material is totally waterproof too. The internal dimensions are approx 11cm height x 15cm long x 5.5cm wide. There's a 10mm thick foam wall making it rugged protection too. The clip that wraps over the top has broken. It still fastens securely though. There are side clips form a shoulder strap and belt slots on the back
Condition:
good apart from broken clip
The photograph above is the actual pre-owned Ortlieb Wasserdicht on offer for sale.