Coronavirus Update:
Shipping is being maintained as close to normal as possible. There could be slight delays, due to carrier changes. I will contact you if there is an issue. If you have any concerns, please ask before ordering - CONTACT US Stay safe.
Aico Auto Bellows Bellows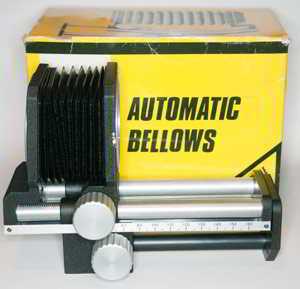 Description:
Second hand Aico Auto Bellows Bellows for sale.
Used A set of Aico Auto bellows. These have a fast focus rail and fine focus, and have auto iris coupling through bellows for easiet use than manual bellows. You'll need some mounts. I have a pair of Nikon ones being sold separate.
Condition:
good condition with original box
The photograph above is the actual Aico Auto Bellows I am selling.