European sales issues
Sorry, due to Brexit complications with VAT I cannot currently supply to European countries. If you still want an item I can make it available on eBay and sell through their Global Shipping option. They take custom charges up front so you know exactly how much to pay. Just let me know what you want here and I will list on eBay: CONTACT US
Nikon F-801s body 35mm camera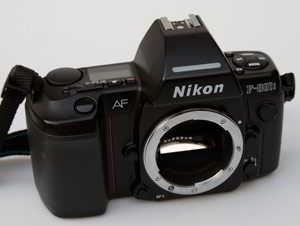 Description:
Second hand Nikon F-801s body 35mm camera for sale
Used Nikon pro spec 35mm film SLR with Nikon F mount. Current Nikkor lenses can be used as well as models going right back to the original F series. Has Matrix Metering, Centre-Weighted and Spot metering (EV 0 to EV 21) Programmed auto (PD, P, PH), shutter-priority auto (S), aperture-priority auto (A) and manual (M) exposure modes. 1/8000 to 30 sec shutter speeds and B setting. Flash sync 1/250sec. ISO 25 to 5000 for DX-coded film; ISO 6 to 6400 for manual setting. Continuous shooting speed of approx. 3.3fps. Multiple exposure up to 9 exposures. ±5 EV range in 1/3 EV steps Exposure compensation. Power source is four AA-type batteries.
Condition:
Good working order. Clean cosmetic condition apart from crack in upper body plate to side of AF near shutter button.This is hardly noticeable and does not affect performance. LCD low light dead
The photograph above is the actual pre-owned Nikon F-801s body on offer for sale.