Coronavirus Update:
Shipping is being maintained as close to normal as possible. There could be slight delays, due to carrier changes. I will contact you if there is an issue. If you have any concerns, please ask before ordering - CONTACT US Stay safe.
LPL 10x12 enlarging easel Darkroom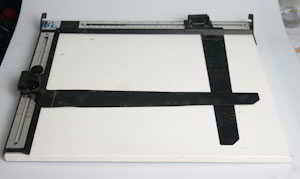 Description:
Second hand LPL 10x12 enlarging easel Darkroom for sale.
Used LPL masking frame / enlarging easel 10x12in maximum print size. It has variable border width control.
Condition:
used looking but still fully functional, few scratches, one of blades has been bent but is straightened out again. Bit of rust here or there but still performs well
The photograph above is the actual LPL 10x12 enlarging easel I am selling.