European sales issues
Sorry, due to Brexit complications with VAT I cannot currently supply to European countries. If you still want an item I can make it available on eBay and sell through their Global Shipping option. They take custom charges up front so you know exactly how much to pay. Just let me know what you want here and I will list on eBay: CONTACT US
Vivitar 365 Flashgun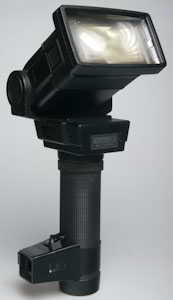 Description:
Second hand Vivitar 365 Flashgun for sale
Used If you thought the 283/285 was good here's the mother of all flashguns, the huge hammerhead Vivitar 365. A powerful gun offering a guide number of 48 (ISO100/M) and powered by 8 size C batteries. or optiona NC-4 NiCad pack. It can also be powered from the mains using the Vivitar SB-5 AC adaptor. It's an auto gun with 5 f/stops controlled by the RS-3 remote sensor. It has a bounce zoom head with 35mm, 50mm and 105mm settings and 0 to 90 degrees of bounce. This is just the flash gun. You will need a camera bracket, power pack and hvc-3 cable to connect the battery pack to the flash, and a RS-3 remote sensor and flash cable to operate it.
Condition:
good for spares, or if you can get the parts needed as a powerful working pro sepc gun.
The photograph above is the actual pre-owned Vivitar 365 on offer for sale.