European sales issues
Sorry, due to Brexit complications with VAT I cannot currently supply to European countries. If you still want an item I can make it available on eBay and sell through their Global Shipping option. They take custom charges up front so you know exactly how much to pay. Just let me know your requirements here: CONTACT US
Nikon Nikkormat FT2 SLR Camera 35mm camera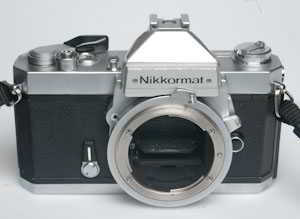 Description:
Second hand Nikon Nikkormat FT2 SLR Camera 35mm camera for sale
Used Introduced in 1975 this metal bodied camera was a reliable workhorse for pros. One of earlier Nikon's to have a hot shoe flash as well as PC socket. Needs lenses with prong to work in open aperture. Shutter speeds from 1sec to 1/1000sec and a B setting, Flash syncs at 1/125sec. EV range of 3 to 17and film speeds from ISO6 to ISO1600. The centre weighted meter is powered by a silver oxide battery.
Condition:
well worn base, dent in side, all still working including slow shutter speeds
The photograph above is the actual pre-owned Nikon Nikkormat FT2 SLR Camera on offer for sale.