Coronavirus Update:
Shipping is being maintained as close to normal as possible. There could be slight delays, due to carrier changes. I will contact you if there is an issue. If you have any concerns, please ask before ordering - CONTACT US Stay safe.
Hoyarex 075 80 Blue Filter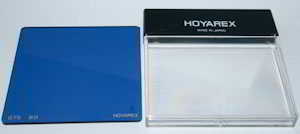 Description:
Second hand Hoyarex 075 80 Blue Filter for sale.
Used 80 Blue filter 75mm square for Hoyarex filter system in hard plastic case. This is for shooting with daylight film under tungsten light to prevent an orange cast, but can also be used to create a moody colour effect.
Condition:
good
The photograph above is the actual Hoyarex 075 80 Blue I am selling.
Price:
£5.00 (IN STOCK: qty 6)