Coronavirus Update:
Shipping is being maintained as close to normal as possible. There could be slight delays, due to carrier changes. I will contact you if there is an issue. If you have any concerns, please ask before ordering - CONTACT US Stay safe.
Nikon F-801s body 35mm camera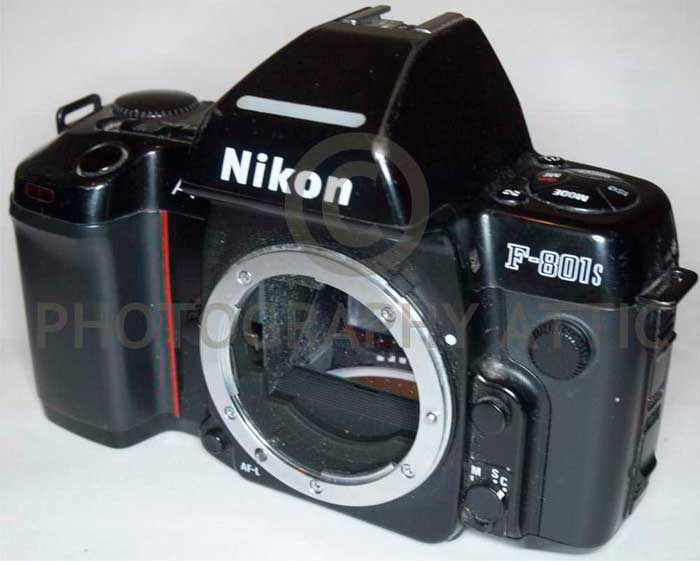 Description:
Second hand Nikon F-801s body 35mm camera for sale
Used Nikon pro spec 35mm film SLR with Nikon F mount. Current Nikkor lenses can be used as well as models going right back to the original F series. Has Matrix Metering, Centre-Weighted and Spot metering (EV 0 to EV 21) Programmed auto (PD, P, PH), shutter-priority auto (S), aperture-priority auto (A) and manual (M) exposure modes. 1/8000 to 30 sec shutter speeds and B setting. Flash sync 1/250sec. ISO 25 to 5000 for DX-coded film; ISO 6 to 6400 for manual setting. Continuous shooting speed of approx. 3.3fps. Multiple exposure up to 9 exposures. ±5 EV range in 1/3 EV steps Exposure compensation. Power source is four AA-type batteries.
Condition:
Good working order. Clean cosmetic condition apart from base where tripod mount appears to have been glued in using aroldite .Just cosmetic and does not affect performance. LCD low light dead - all figures display good.
The photograph above is the actual pre-owned Nikon F-801s body on offer for sale.
Price:
£45.00 (IN STOCK: qty 1)