Coronavirus Update:
Shipping is being maintained as close to normal as possible. There could be slight delays, due to carrier changes. I will contact you if there is an issue. If you have any concerns, please ask before ordering - CONTACT US Stay safe.
Nikon F-50 body 35mm camera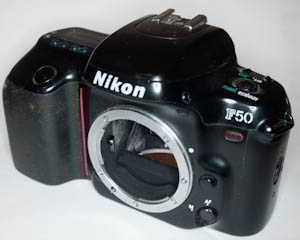 Description:
Second hand Nikon F-50 body 35mm camera for sale
Used Nikon F-50 35mm film SLR with Nikon F mount. Current Nikkor lenses can be used as well as models going right back to the original F series. Has Matrix Metering, Centre-Weighted and Spot metering Programmed auto, shutter-priority auto (S), aperture-priority auto (A) and manual (M) exposure modes. 1/2000 to 30 sec shutter speeds and B setting. built in flash, with dedicated hot shoe, ISO 6 to 6400 for manual setting. Continuous shooting. Power source is one lithium 6v dl245 battery.
Condition:
Appears to be in good working order. Clean cosmetic condition apart few cosmetic scratches, a grubby hot shoe and the hand grip has gone sticky
The photograph above is the actual pre-owned Nikon F-50 body on offer for sale.
Price:
£25.00 (IN STOCK: qty 1)