European sales issues
Sorry, due to Brexit complications with VAT I cannot currently supply to European countries. If you still want an item I can make it available on eBay and sell through their Global Shipping option. They take custom charges up front so you know exactly how much to pay. Just let me know what you want here and I will list on eBay: CONTACT US
Minolta 9000AF body 35mm camera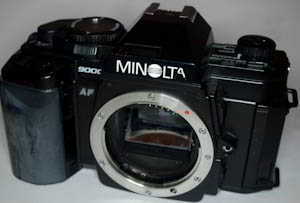 Description:
Second hand Minolta 9000AF body 35mm camera for sale
Used Minolta Pro Spec camera was highly advanced in its time. Auto manual program, shutter priority, aperture priority, Spot metering Highlight and shadow readings, depth of field preview, couplings for motor drive, manual film advance so not heavily dependent on batteries.
Condition:
Good working order. Clean cosmetic condition apart from Rubber grip faded and has a grey colour .Just cosmetic and does not affect performance. LCDhas a small amount of flooding in the bottom right but all figures display correctly,. Lens release button broken off, need to push blunt object in to release lens (could get fixed but not necessary) - a
The photograph above is the actual pre-owned Minolta 9000AF body on offer for sale.