Coronavirus Update:
Shipping is being maintained as close to normal as possible. There could be slight delays, due to carrier changes. I will contact you if there is an issue. If you have any concerns, please ask before ordering - CONTACT US Stay safe.
Samsung DigiMax i7 Digital Camera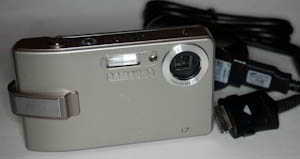 Description:
Second hand Samsung DigiMax i7 Digital Camera for sale.
Used The Samsung i7 is a 7.2 megapixel digital camera with metal body and built in mp3 player. Powered by lithium battery. Takes SD memory cards.
Review and spec here
Samsung i7 a>
Condition:
very good apart from a few coloured vertical lines that run down the LCD screen. These appear to be pixel flaws with the screen. They do not affect photo quality. The camera comes with charger and battery. You'll need a memory card. (about £4)
The photograph above is the actual Samsung DigiMax i7 I am selling.