Coronavirus Update:
Shipping is being maintained as close to normal as possible. There could be slight delays, due to carrier changes. I will contact you if there is an issue. If you have any concerns, please ask before ordering - CONTACT US Stay safe.
Pro 4 CV Hi Key SQ A-series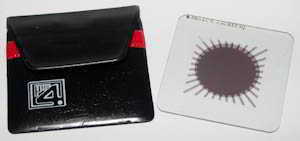 Description:
Second hand Pro 4 CV Hi Key SQ A-series for sale.
Used CV Hi Key SQ 67mm square filter in case for Pro4 and Cokin A series holders. This is one of Pro4's Controlled Vignette filters for Square format cameras such as the Hasselblad 500 series or Bronica SQ. This High Key filter lightens progressively towards the edge, concentrating light away from the focused subject, providing a luminous cameo that can be used creatively, vignette luminosity being controlled by lens aperture, Optimum aperture when used on a standard lens is f/5.6.
Condition:
several light marks around edges where it's scuffed on filter holder, no affect on quality
The photograph above is the actual Pro 4 CV Hi Key SQ I am selling.
Price:
£7.00 (IN STOCK: qty 1)