Coronavirus Update:
Shipping is being maintained as close to normal as possible. There could be slight delays, due to carrier changes. I will contact you if there is an issue. If you have any concerns, please ask before ordering - CONTACT US Stay safe.
Canon Speedlite 300TL Flashgun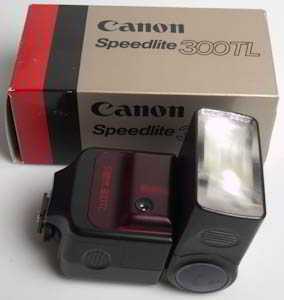 Description:
Second hand Canon Speedlite 300TL Flashgun for sale.
Used Canon Speedlite 300TL. Dedicated auto/manual flashgun for use with Canon T90 camera but can be used with other older Canon film camera including EOS (but not digital!). Guide number up to 40 (ISO100/m).
Condition:
Excellent with box and case. Battery chamber and contacts clean.
The photograph above is the actual Canon Speedlite 300TL I am selling.