Coronavirus Update:
Shipping is being maintained as close to normal as possible. There could be slight delays, due to carrier changes. I will contact you if there is an issue. If you have any concerns, please ask before ordering - CONTACT US Stay safe.
Canon ET-62II, boxed Lens hood
Warning: getimagesize(img/canon_et-62ii_hood.jpg): failed to open stream: No such file or directory in /storage/content/20/1004720/photographyattic.com/public_html/product.php on line 87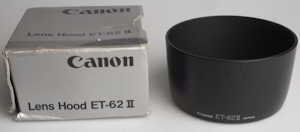 Description:
Second hand Canon ET-62II, boxed Lens hood for sale.
Used Bayonet mount for 62mm thread for Fits Canon EF 100-300 f/5.6 L, EF 100-300 f/5.6, EF 80-200 f/4.5-5.6 , EF 70-210mm f/4.0
Condition:
Good conditon hood, with box which is a bit tatty
The photograph above is the actual Canon ET-62II, boxed I am selling.
Price:
£15.00 (IN STOCK: qty 1)