European sales issues
Sorry, due to Brexit complications with VAT I cannot currently supply to European countries. If you still want an item I can make it available on eBay and sell through their Global Shipping option. They take custom charges up front so you know exactly how much to pay. Just let me know what you want here and I will list on eBay: CONTACT US
Sunpak G4500 hammerhead Flashgun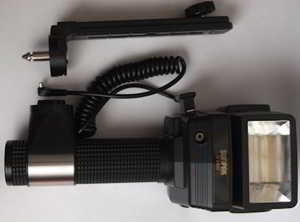 Description:
Second hand Sunpak G4500 hammerhead Flashgun for sale
Used The superb Sunpak G4500 hammerhead (like Metz 45). A versatile flashgun with bounce and swivel head and high power with three auto and manual settings. Thyrister circuit ensures a fast recyle time and more battery power. 0.3 to 4sec with nicads 100-800 flashes with alkalines. 1/1000 to 1/35000 flash duration for incredible motion stopping speed. Guide no 45 (ISO100/M). Boxed with instructions, bracket and PC sync cable..
Condition:
good
The photograph above is the actual pre-owned Sunpak G4500 hammerhead on offer for sale.