Coronavirus Update:
Shipping is being maintained as close to normal as possible. There could be slight delays, due to carrier changes. I will contact you if there is an issue. If you have any concerns, please ask before ordering - CONTACT US Stay safe.
Hoyarex 162 Black Plain Mask Filter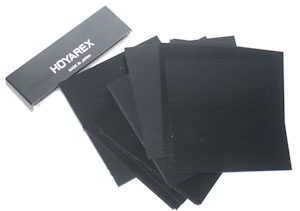 Description:
Second hand Hoyarex 162 Black Plain Mask Filter for sale.
Used Black Plain Mask filter for Hoyarex filter system in hard plastic case. These 15x 72mm squares are used to cut shapes out and make vignettes. ideal for portrait and studio or special effects. could be used with torches in mini sets to create gobo like shadows. Can be cut down to fit Cokin A series gel holder
Condition:
good
The photograph above is the actual Hoyarex 162 Black Plain Mask I am selling.
Price:
£5.00 (IN STOCK: qty 12)