European sales issues
Sorry, due to Brexit complications with VAT I cannot currently supply to European countries. If you still want an item I can make it available on eBay and sell through their Global Shipping option. They take custom charges up front so you know exactly how much to pay. Just let me know what you want here and I will list on eBay: CONTACT US
Unbranded 60-100X Zoom iPhone Microscope Optics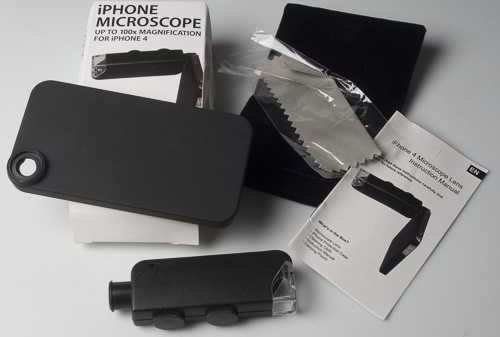 Description:
Second hand Unbranded 60-100X Zoom iPhone Microscope Optics for sale
Used 60-100X Zoom Microscope converts your iPhone 4 into a portable microscope. Magnification up to 100X, Focus Dial, Pocket-sized for portability, LED with ON / OFF Switch. The microscope attaches via a dedicated back case on iPhone 4. It's powered by 3 LR1130 Button Cell batteries
Condition:
The threaded rim that attaches to the photo case has snapped off. You can either hold it onto the case or it could be glued but then you wound't be able to collapse it for storage. Doesn't affect use, just inconvenient.
The photograph above is the actual pre-owned Unbranded 60-100X Zoom iPhone Microscope on offer for sale.