European sales issues
Sorry, due to Brexit complications with VAT I cannot currently supply to European countries. If you still want an item I can make it available on eBay and sell through their Global Shipping option. They take custom charges up front so you know exactly how much to pay. Just let me know what you want here and I will list on eBay: CONTACT US
Unbranded Macro LED Ring Light Flashgun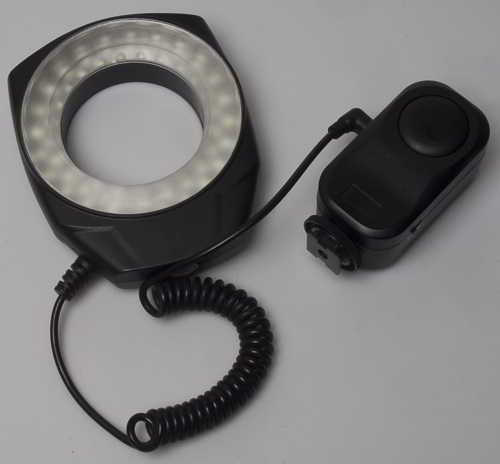 Description:
Second hand Unbranded Macro LED Ring Light Flashgun for sale
Used Battery or mains powered Macro LED Ring Light - works with any camera system and can be used with automatic metering. Power pack is separate from ring so the unit is lighter when mounted on the filter thread of your lens. Accepts Cokin P series adaptor rings so can be made to fit any lens from 30.5mm up to 82mm. I will supply the unit with an adaptor size of your choice. The unit has a switch for left or right light or both. The ring is about 15mm wide and has an inner aperture of approx 63mm Overall dimensions approx 125mm x 102mm x 25mm Light weight and ideal for close up and still life photography.
Condition:
Light marks on body, supplied with mains adaptor and one adaptor ring (choice of filter thread)
The photograph above is the actual pre-owned Unbranded Macro LED Ring Light on offer for sale.
Price:
£20.00 (IN STOCK: qty 1)

Shipping:
from £5.00
Tags:
Ring Flash