European sales issues
Sorry, due to Brexit complications with VAT I cannot currently supply to European countries. If you still want an item I can make it available on eBay and sell through their Global Shipping option. They take custom charges up front so you know exactly how much to pay. Just let me know your requirements here: CONTACT US
Holga HL(W)-OP 25mm f/8 35mm interchangeable lens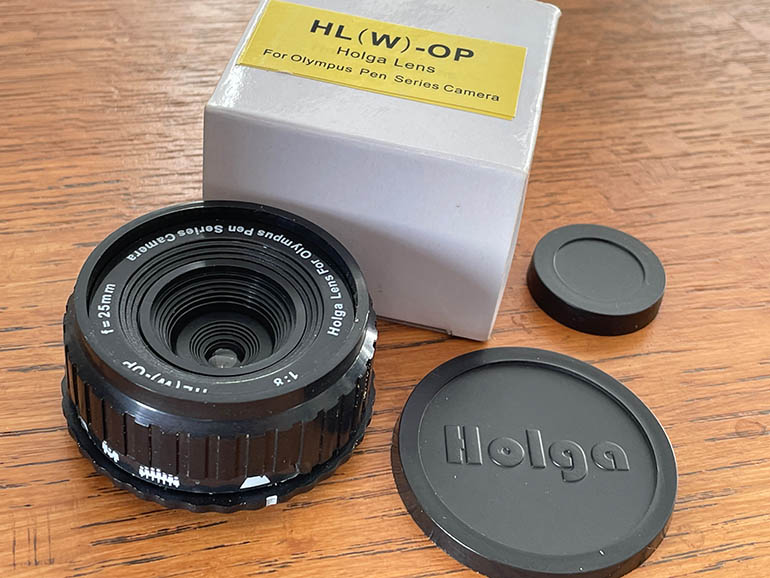 Description:
Second hand Holga HL(W)-OP 25mm f/8 35mm interchangeable lens for sale
Used Holga HL(W)-OP lens has an Olympus / Panasonic Micro 4/3 camera mount to provide authentic toy camera quality photos and results like the old Halina 35mm film camera of the 70s. Focus using a single helicoid style screw thats quite stiff again giving a feeling of old fashioned camera technology. The fixed f/8 aperture ensures adequate depth of field but makes the viewing screen a little dark. Ideal lens if you're seeking beautiful softness and vignette with Lo-fi qualities. See photos taken with this lens here:
Holga on Lomography
Specs
Plastic Optical Lens
?Aperture: f/8 
?Focal Length: 25mm
?Manual Zone Focus
?Dimension: 38 x 57mm
?Weight 38g
Condition:
excellent condition with original box
The photograph above is the actual pre-owned Holga HL(W)-OP 25mm f/8 on offer for sale.
Price:
£20.00 (IN STOCK: qty 1)
Tags:
Micro 4/3