European sales issues
Sorry, due to Brexit complications with VAT I cannot currently supply to European countries. If you still want an item I can make it available on eBay and sell through their Global Shipping option. They take custom charges up front so you know exactly how much to pay. Just let me know what you want here and I will list on eBay: CONTACT US
Pentax -M SMC 35mm f/2.8 35mm interchangeable lens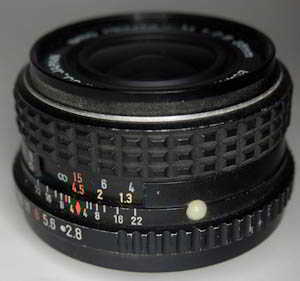 Description:
Second hand Pentax -M SMC 35mm f/2.8 35mm interchangeable lens for sale
Used Pentax-M SMC 35mm f/2.8
Condition:
slight wear around serrated ring, optically clean. Pic shows grubby around filter ring this has cleaned off. Focusing slightly tight atand aoperture ring stiff when focusing is at closest distance. Diaphragm sticky but no oil. I think it just needs stripping down and cleaning to resolce all these issues. Sold as seen as with a price to suit
The photograph above is the actual pre-owned Pentax -M SMC 35mm f/2.8 on offer for sale.