The Skylight filter has been around for decades and is one of the most popular filters. It has a slight pink tint which is used to reduce blue haze in colour photography.
When taking colour photographs in bright sunlight, especially by the sea or in the mountains, ultra-violet rays and the brightness of the sky throw out the picture's overall colour balance.
Removing any excess bluish tone, improves the overall clarity of the photograph. They also keeps skin tones free of colour reflections from nearby objects such as tree shade. With older film cameras this was very important as it helped restore the film's natural colour balance. It's less of an issue with digital as colour casts can be eliminated quite easily in post processing using an image editing program.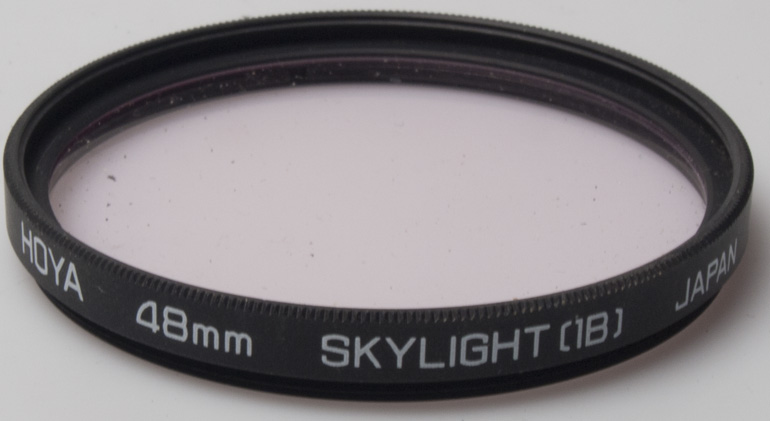 The Skylight filter does not affect exposure, so some photographers screw one on the front of each of their lenses as protection for the front element.
There are some photographers who counter this action, suggesting that the filter will degrade quality. And it's true if you put on a cheapy plastic option, but adding a high quality Japanese multi-coated filter will give minimal degradation to the image.  Any change will certainly not be noticeable to the naked eye.  And the advantage of having a skylight filter (or UV)  is you maintain a clean lens which would cost much more to replace than a scratched filter.
If you use a skylight filter you can keep it attached all the time, but be careful if you add other filters as the extended depth could cause vignetting on wide angle lenses.  Some manufacturers such as Hoya make slim versions to prevent this.
Skylight filters are available in two strengths 1A and 1B, the latter being a slightly stronger pink colour.
Skylight filters are available in round type that screw into the lens in ever size imaginable.
Round screw in filters available here
They are also made by Cokin for the square filter system in A and P sizes, and Hoyarex and the likes used to make them for their systems.
Hoyarex 011 Filter
Cokin A230