Hoyarex filters were arguably the best filter system made. Optically superb, several made from glass, solid filter holder, brilliant adjustable rubber hood for wide or super telephoto, and a useful range of filters.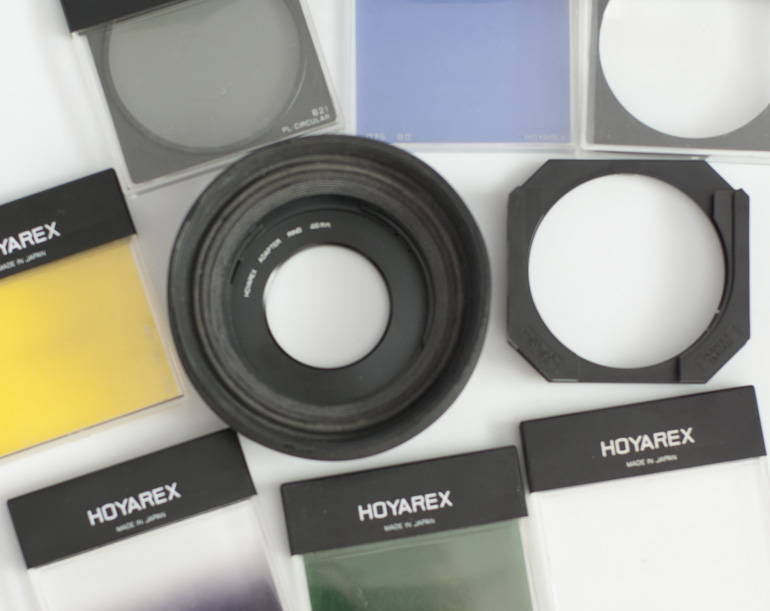 Hoyarex was a filter system developed by Hoya. Hoya was the big name in optical filters and then French manufacturer Cokin appeared with a system that would revolutionise the filter world.
Hoya reacted fast but not fast enough. Cokin had soon taken hold of the filter market with serious and special effect filters. Photographers were no longer buying one or two filters they were investing in cases full.
The Hoyarex system emulated what Cokin had done, but in our opinion did it better, some filters were glass, others had frames around them so handling was better. The holder was more flexible and had a more versatile lens hood. The filters slotted in more comfortably and the adaptors clipped in easier.
But they were too late and Cokin won the battle. Hoyarex disappeared as quick as they came.
You can still find remnants of the system sold in the second-hand sections of various photographic retailers, and there are many here on PhotographyAttic.
The illustration above shows the filter holder with an adaptor ring (available in sizes from 43mm up to 77mm) and the wonderful rubber Pro hood that clipped on the holder and had a variable extension.
Two filter holder can be clipped together and rotated when special effect filters were inserted.
Here in numeric order is the entire range with links to buy individual used filters at photographyattic.com